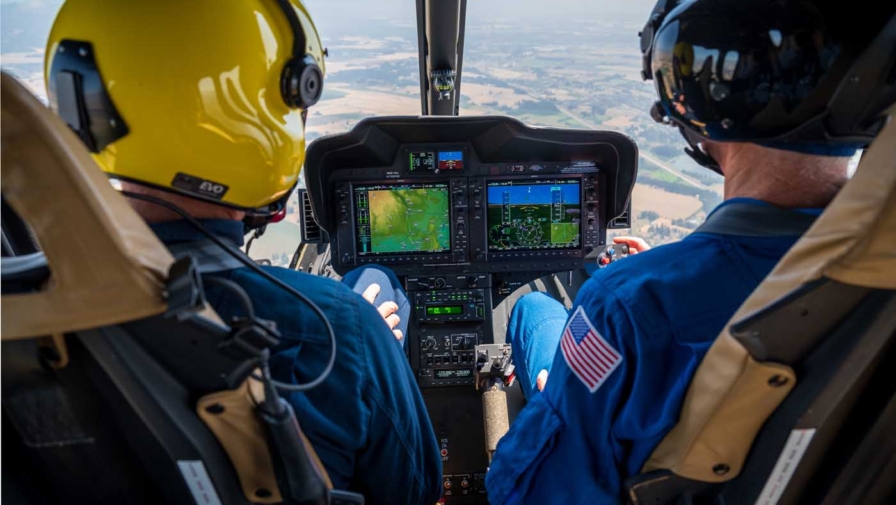 This article first appeared on Vertical Mag here: https://verticalmag.com/features/garmins-gamechanger-flying-the-600h-in-the-bell-505/
Gamechanger: A term commonly used by marketing folks and writers when trying to describe a new product in superlatives when they run out of words or imagination. Often, the product just isn't.
The system incorporates cyclic-mounted trim controls and new yaw trim controls on the collective to allow for ease of operation.
But in the case of the Garmin GFC 600H autopilot for the Bell 505, that term seems appropriate. The big takeaway in this newly-certified product is it makes the small helicopter fly more like larger ones equipped with sophisticated autopilots and stability augmentation systems (SAS). That is not insignificant.
Some years ago, Garmin decided to dip its toe into the helicopter autopilot market, but didn't want to just offer a "me too" product in that space. Though it already offered a very capable autopilot for fixed-wing aircraft with some of the features of the new 600H, including envelope protection and a level button, this new product isn't just a reheated GFC 600 from Garmin's fixed-wing product line.
Garmin first certified the GFC 600H in the Airbus AS350 in 2019, but the new version for the Bell 505 is improved in several ways, including better hover capability, better aural warnings, and an important new feature: low-g protection.
In a technical nutshell, the new autopilot uses highly-refined GPS signals, an air data computer, two comparative attitude and heading reference system (AHARS) units (one imbedded into the autopilot control head), and a servo for each of the pitch, roll and optionally, yaw axes — and of course, innovative software to make it all work. It does the usual things well that you'd expect from any autopilot: hold the rotor disk level, hold heading or altitude, climb and descend with selected vertical speed, and shoot a damn nice instrument approach.
But wait! There's more!
The GFC 600H also offers "helicopter electronic stability and protection" (H-ESP): a package of safety features that includes high-speed and low-speed protection; something Garmin calls "limit cueing;" a magic level button; and since the Bell has a two-blade teetering system, low-g protection — an industry first, as far as we can determine.
A dedicated LVL button on the cyclic can be pressed by the pilot to immediately return to straight-and-level flight.
Since small helicopters often operate at the limits of their performance, every ounce or gram added to empty weight matters. So, to offer this entire three-axis package at just 16 pounds/7.2 kilograms (excluding wiring) is truly remarkable.
This feature-rich autopilot has a ton of cool things about it, and I won't be able to adequately address all of them in this short article (the autopilot's operating manual is over 50 pages long), so I'll focus mostly on the novel and the life-saving features that make it awesome.
First Impressions
In early July, I was invited to try the system with Sean Doyle, Garmin's chief test pilot, in Salem, Oregon. From the moment I picked the 505 up into a hover, I noticed the helicopter was more stable, and required less work to fly smoothly than the last time I had flown a 505. This is because the 600H autopilot is always on from liftoff to setdown, working in the background to assist with stability and control. It's not "on or off" as in fixed-wing or earlier-generation helicopter autopilots. Rather, it's cooperative, and is designed to allow the pilot to "fly-through" the autopilot while it's engaged, without significantly increasing control forces.
The innovative system does not accomplish this magic force trim feel with conventional springs and black boxes. Instead, Garmin's design increases voltage through the servos to increase torque, thus simulating the "spring" feel of conventional force trim. What an elegant idea.
Since there is no glareshield annunciator on the 505, all visual alerts (called CAS messages) and autopilot mode annunciators are displayed in the control head mounted on the center console, just below your knee. Mode selection buttons are arranged around the screen, which is thoughtfully night vision imaging system (NVIS) compatible. Though I don't care for the location of the control head — it's below your normal "eyes outside" field of view — Garmin's solution is a two-note tone (which sounds just like the seat belt chime on airliners) to draw your eyes to any mode changes on the control head. I adapted to it surprisingly quickly, but I'd guess Garmin would like to place visual cues more prominently in the pilot's normal field of view, perhaps at the top of the G1000 screens, in a future upgrade.
Let's say you want to hover taxi from your hangar to the FBO ramp. Simply lift the helicopter up to a hover, then press and release the FTR, or force trim release button. One of the welcome features of that button is it allows you to engage some basic autopilot modes without removing your hands from the sticks. If you do nothing else at this point, the basic ATT or attitude mode holds a steady pitch and roll attitude. If you stay at zero groundspeed, the hover assist mode automatically engages and does a brilliant job of holding the helicopter in your desired spot. You still fly the collective to fine tune the height, but with the optional yaw servo pushing the torque pedals as you raise and lower the collective, workload is reduced significantly.
The Hover Assist mode is designed to work in 17 knots of wind from any direction, according to Garmin, though we only saw about a third of that when we flew, and it held position effortlessly.
Not only does the optional yaw servo assist in hover, it provides yaw dampening to make the ride nicer in cruise, and allows you to fine tune the vertical axis trim plus or minus one ball width.
If you simply blip the four-way trim switch on the top of the cyclic while in hover, you can increase or decrease the groundspeed in one-knot increments, allowing you to happily hover down the taxiway forwards, backwards, or even sideways, with precise speed control. If you hold the trim switch down to slew rapidly, it stops at zero to prevent overshooting. That's a thoughtful feature. Though it'll do up to 35 knots in groundspeed mode, I only tested it up to 13 knots flying forward along the taxiway centerline, and opted for a more stately four to five knots when flying sideways or backwards, just in case the flame went out.
That's a really amazing capability for a light helicopter, kind of like having a big boy stability system without the weight, complexity — and cost.
Keeping it on the level
If a pilot "inadvertently" flies himself into a bad attitude at night or low visibility, the 600H has your back. We simulated this twice by my looking down and closing my eyes while still holding the controls. When Doyle told me to look up, the picture through the windscreen was ugly: nose down, increasing bank, and accelerating. I simply hit the blue LVL button on the cyclic, and the autopilot did a nice job of smoothly returning the ship to straight and level, then holding that basic attitude for the pilot to re-engage an appropriate upper mode (altitude hold, heading, or nav, for example).
The hover assist mode can automatically detect a hover condition and allows for flight control inputs to help maintain position over the ground.
Since the Bell 505 has a two-blade teetering system, one of the concerns with having an autopilot that can make nose-down inputs is avoiding mast bumping and other nasty possibilities from an unloaded main rotor. So Garmin created low-g protection to avoid this dangerous corner, which gently raises the nose to increase positive g-force if it senses anything below .6g. Low-g protection won't fly you into more trouble, and operates full-time.
As you fly the helicopter past 45 degrees of bank or 15 degrees of pitch, you'll feel increased control forces ("limit cues") gently making you aware of the unusual attitudes. But if you want or need to fly past these steep attitudes, you simply do so with slightly higher — but manageable — control pressures. Or, you can disconnect the system entirely and just fly the basic helicopter. Disconnecting is easily done with the FTR button on the side of the cyclic, the FCS disconnect switch on top of the cyclic, the FCS button on the autopilot mode controller, or the system power shutoff switch on the lower center console. That switch, located way down at the bottom of the center console, would benefit from adding a guard to protect it from inadvertent activation.
When flying with upper modes engaged, (ALT, VS, GS, or GP) high-speed protection provides aural warning as you approach the high-speed limit (the trend worm on your primary flight display screen), then gently raises the nose of the helicopter with the cyclic to nudge the aircraft back to a safe speed. The software automatically adjusts the Vne limit for current temperature and altitude conditions.
Low-speed protection provides an aural warning of approaching inadvertent entry into the low-speed flight regime while in upper modes (ALT, VS, GS, or GP) and again, smoothly flies the ship back towards a safe speed.
What an impressive package! These are life-saving feature for light, two-bladed helicopters.
Just Say "When"
Garmin received its supplemental type certificate for the GFC 600H in the Bell 505 from the Federal Aviation Administration in the third week of July. Retrofit installations on all existing 505s will begin immediately through Garmin's and Bell's dealer networks. The initial kit price is $80,000 for the full-up, three-axis version, and $57,000 without the yaw servo. I can't imagine anyone not opting for the yaw servo because of the decreased workload it offers. Garmin estimates about 120 hours labor to install the package in the field.
Integrated smart servos provide pitch and rolls inputs as commanded by the system, while the collective sensor and optional third servo provide yaw axis control capability.
Bell already has orders for the 600H, and you can now add it to any new 505 order. Factory deliveries with the new autopilot installed will begin "this summer."
Operating modes include attitude hold, altitude hold, altitude select, vertical speed, indicated airspeed and heading select.
The GFC 600H is a brilliant design, but like any feature-rich avionics system, it will require more training and deeper understanding of its capabilities to effectively use all of its features. I struggled to remember the expanded features of the FTR button, for example. But what a game-changing tool to transform a light helicopter into a much more stable, easier to fly, safer flying machine. I can't imagine ordering a new Bell 505 without it.