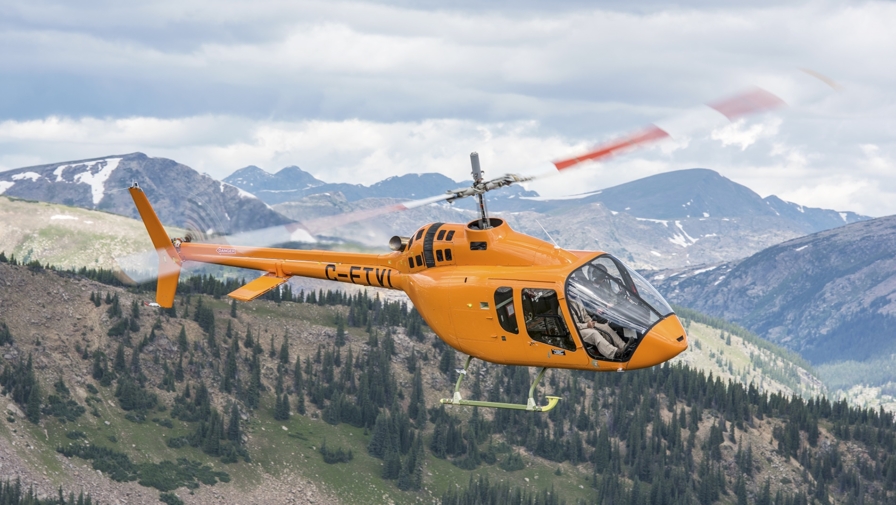 Dallas, Texas (June 8, 2017) Bell Helicopter, a Textron Inc. (NYSE: TXT) company, is pleased to announce that its Bell 505 Jet Ranger X has been certified by the Federal Aviation Administration (FAA).
The Bell 505 continues to surpass significant milestones – achieving type certification in December 2016 from Transport Canada Civil Aviation, then gaining production certification, and recently celebrating the first customer delivery.
"This is another significant milestone in our journey to market entry for the Bell 505," said Mitch Snyder, Bell Helicopter's president and CEO. "This aircraft incorporates the latest advancements in safety and aviation technology and we are extremely proud of our return to the short light single class of helicopters."
Bell Helicopter will continue to work with other certification authorities around the globe. Through the flight test program, the Bell 505 underwent rigorous certification activities and achieved more than 1,000 flight test hours. The Bell Helicopter Training Academy is also prepared for entry into service with customer training, and the flight training device and coursework are all on track.
"Customer response for the Bell 505 has been outstanding, and we look forward to seeing the aircraft perform all the various missions it's equipped for around the world," added Snyder.
The Bell 505 offers operators many advantages including the Safran Helicopter Engines (HE) Arrius 2R engine that incorporates the dual channel Full Authority Digital Engine Control (FADEC) that delivers exceptional performance and reduces pilot workload. A first-in-class fully integrated Garmin G1000H flight deck features dual 10.4-inch (26.4 cm) displays, which provide critical flight information for crews at a glance. Through Bell Helicopter's high inertia rotor system, Bell Helicopter has demonstrated throughout the flight test program exceptional autorotation capability that is part of the Jet Ranger legacy.
With a speed of 125 knots (232 km/h) and useful load of 1,500 pounds (680 kg), the Bell 505 is designed to be safe and easy to fly while providing significant value to the operator. The customer-driven design of the aircraft places safety, performance and affordability at the forefront, blending proven systems with advanced technology and a sleek, modern design.
About Africair
Africair is the Independent Representative for Bell Helicopter/Textron, Inc. for 33 countries in and around Africa. Bell Helicopter is the premier manufacturer of light to medium size helicopters in the world and produces a full line of single and twin engine helicopters. Bell helicopters are world renowned for their rugged durability, reliability and safety. We provide configuration and completion coordination for our customers utilizing a number of high quality completion facilities.
About Bell Helicopter
Bell Helicopter, a wholly owned subsidiary of Textron Inc., is an industry-leading producer of commercial and military, manned and unmanned vertical-lift aircraft and the pioneer of the revolutionary tiltrotor aircraft. Globally recognized for world-class customer service, innovation and superior quality, Bell's global workforce serves customers flying Bell aircraft in more than 120 countries.
About Textron Inc.
Textron Inc. is a multi-industry company that leverages its global network of aircraft, defense, industrial and finance businesses to provide customers with innovative solutions and services. Textron is known around the world for its powerful brands such as Bell Helicopter, Cessna, Beechcraft, Hawker, Jacobsen, Kautex, Lycoming, E-Z-GO, Greenlee, Textron Off Road, Arctic Cat, Textron Systems, and TRU Simulation + Training. For more information, visit: www.textron.com